January 20, 2017

Boasting Innovative Features and New Architecture – VISION 5.0 Has Arrived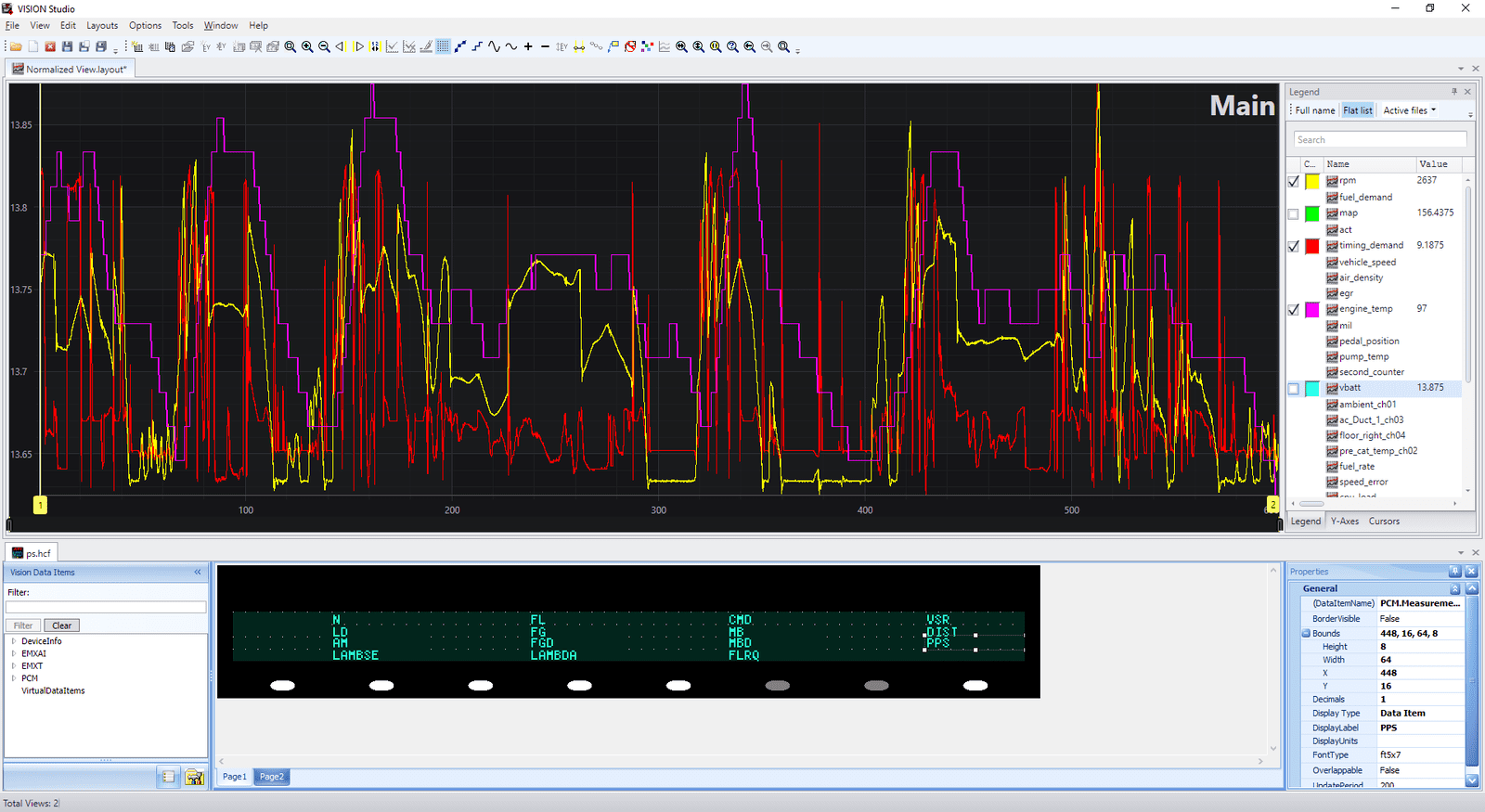 With the announcement of VISION™ Calibration and Data Acquisition Software, version 5.0, Accurate Technologies Inc. not only adds new features to its flagship product, but initiates a major shift to anticipate the future. The most notable addition is the Remote Dashboard that allows users to view data or initiate VISION functions wirelessly from a phone or tablet. Equally important is the new VISION Tool Suite offering a new framework for new features that include MDF4 Data Analyzer, the A2L Explorer and Editor, and the Automated Test Sequence Builder to easily automate common VISION actions. VISION 5 includes a large number of customer requested features and improvements, and while these new functions are exciting, the VISION Tool Suite platform signals a new foundation onto which greater possibilities can be implemented for the future.


New Features
Developed to offer convenient, adaptable, location-independent, and safer viewing and interaction with VISION, the Remote Dashboard is the highlight of the VISION 5.0 release. The Remote Dashboard provides the ability to create customized virtual dashboards that can be displayed on secondary displays and other devices connected to the same network to remotely monitor a VISION session. In addition to monitoring, the Remote Dashboard is also capable of executing some common functions of VISION remotely.
VISION 5.0 introduces an entirely new application called VISION Tool Suite that offers a more expansive and flexible platform for new VISION Calibration and Data Acquisition Software related features. The VISION Tool Suite was developed to accommodate extremely large data sets and offer a stable platform for future development. The introduction of VISION Tool Suite introduces new functionality such as the MDF4 Data Analyzer. Complementing ATI's DLX Datalogger, the Data Analyzer was developed to closely resemble the powerful VISION .rec file data analysis functionality and to create layout views that may be saved as separate files and even applied to other recordings.
The A2L Explorer in the VISION Tool Suite can open files, view the A2L hierarchy and contents, edit A2L parameters properties, and create new Measurements, Characteristics, and Formulas. When finished, export files to A2L format. Another convenient feature is the new Automated Test Sequence Builder, a visual scripting environment to automate common actions in the VISION application. Anyone can use the Builder, even without the need to learn a scripting language.

ATI Client Services Expansion
ATI Client Services, the Windows Tray application, continues to improve and expand services that are normally not accessible or easily accessible to typical VISION application users. The latest addition is ATI Triage service gathers key information and files about the system and creates a Zip file that contains diagnostic information for use with ATI Support to further expedite service. The original Recorder Catalog service that retrieves data information saved in the recorder files located in "watched" directories has been expanded to allow the addition of folders located on network drives to the watch directories list. Other improvements include support for wildcard searches, user information prompts about watch folder scanning, support for markers, marker comments, and stability improvements.
Additional VISION Functionality Improvement
Advanced ASAP2 File Importing

VISION 5.0 provides expanded features for importing ASAP2 files. All keywords and data types are now supported including Functions, Groups, Measurements, Memory Segments, and Record Layouts, and verbose error checking and import diagnostics are now provided. Finally, IF_DATA sections and keywords are imported and exported regardless if they are used by VISION or not.

Chinese version of VISION
ATI products are well known for ease of use and the ability to customize, and providing the Chinese translation brings benefits to the expanded audience.
Expanded VISION Recorder File Exporter
VISION 5.0 adds the MDF v4.1 file format to the choices of export formats for recorder files. Exported files can be used in the Data Analyzer.
ATI Hardware Support Enhancement
EMX Data Acquisition Modules
To complement the large expansion of the EMX Data Acquisition devices, the configuration capabilities of VISION 5.0 include the new cost-effective LSA8d precision analog voltage module and the wide range of mixed analog and thermocouple channel combinations now available.
DLX Datalogger recorded MDF4 files can be viewed and analyzed in the MDF4 viewer in VISION Tool Suite. VISION 5 also enables the DLX to timestamp CANMonitor channels when a message is received (On Rx)
Additional features for the A8 include the implementation of a FlashLock device setting, the ability to perform a software reset, and Brain Dead Flashing for Infineon Tricore AURIX Processors.
Vehicle Information Display (VID)
Upgraded configuration editor is included in the VISION Tool Suite.
Customer Feedback Generated Features
VISION 5.0 is filled with features or improvements specifically requested by customers such as:
Text wrapping and text alignment improvements
"Device" column added to data lists
Exclude range limits from parameter template import
Ability to import/export the custom template manager "Master Field List"
Support for Renesas RH850 has been added to No-Hooks and OnTarget
Ability to add a border around text in Model Browser
Auto-trigger OBDII mode dumps and DTC clear
Calibration changes are now stored in recorder files
Allow inline edits of calibrations in Calibration Manager
Calibration report settings are now persistent in Calibration Manager
Kistler Kibox and AVL IndiCom device improvements
Enhancements concerning recording:
Ability to move not only annotations but annotation arrows also
Enhanced calculated channel formulas for VISION .rec files moving min, max, and standard deviation based on number of samples
Add digital channel toggle to right-click menu
Save decimal places in recorder file layouts
Recorder channel list sorting
Copy/paste unresolved channels
Recorder file Notes saved to layouts
Recorder file zooming improvements
Many recorder filename macro improvements
Below are links to products related to the above article.