Intuitive Calibration for Efficiency and Creativity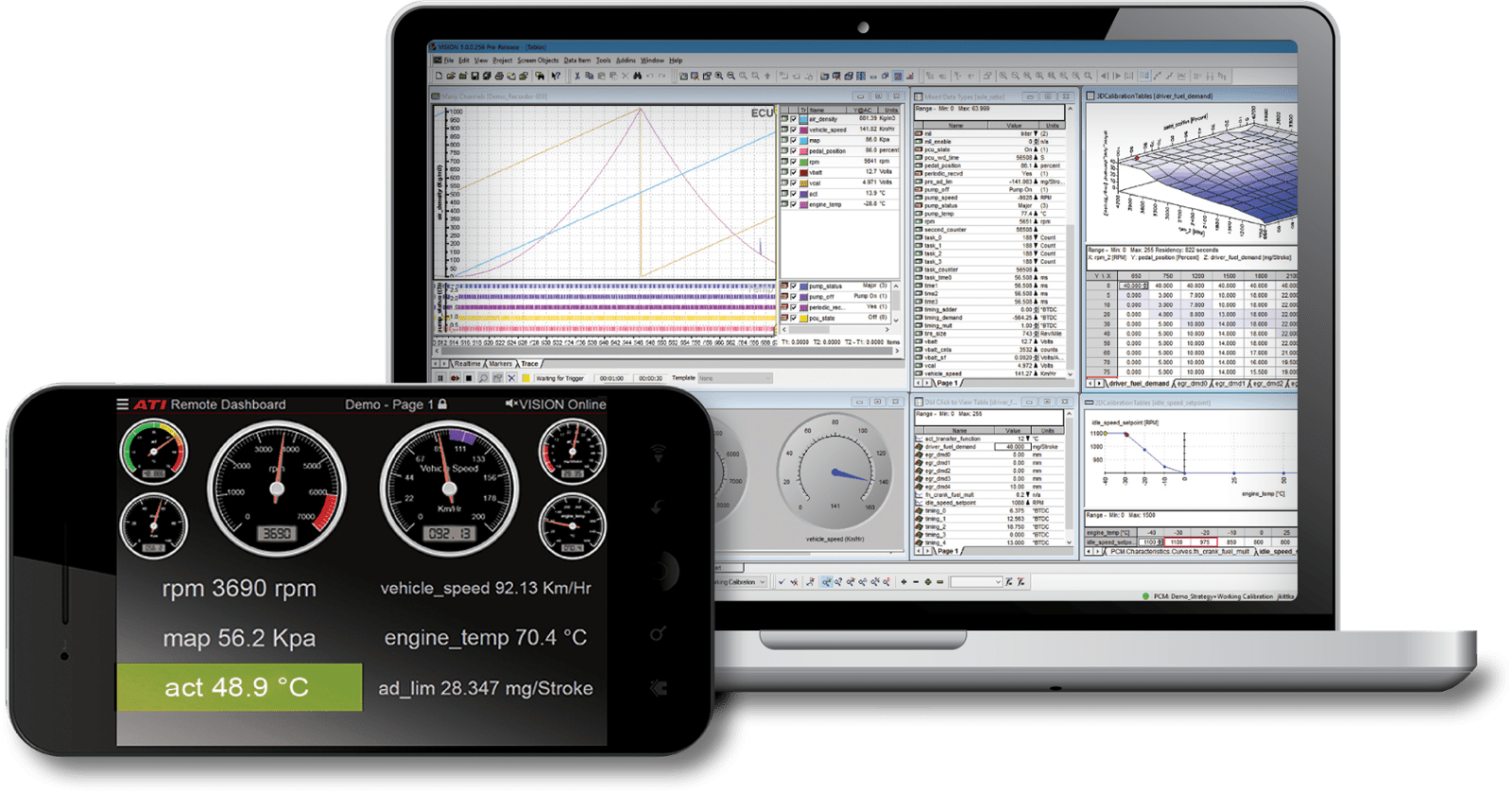 VISION is an innovative, user-friendly, powerful comprehensive software solution that covers data acquisition, post-analysis, ECU calibration and ultimately the rapid prototyping of module functionality using patented No-Hooks technology.
A fully integrated calibration and data acquisition tool that collates signals from ECUs and external sources, VISION collects measurements and also allows the real-time calibration and modification of closed loop control systems. In addition, VISION time aligns and facilitates the analysis of information, manages calibration data changes and enables flashing of the ECU.
Chosen globally by major OEMs and Tier One suppliers, ATI's VISION Software is designed to optimize end user work flow and as a result is easy to configure and operate. Users can readily convert files to and from VISION for data sharing or, in many cases, incorporate third party hardware supplied by other vendors, enabling seamless integration into legacy processes, systems and existing tools.
For physical access to ECUs, VISION supports the full range of connectivity hardware from a simple USB CAN device to a high-speed A8 serial interface.

Scalability
Unlike competitor products, VISION is available in both cost-effective scalable toolkits and dedicated packages, each offering different levels of functionality tailored to the typical requirements of the measurement, calibration and diagnostics sector. VISION Base is the foundation of all the VISION toolkits. VISION Base can be downloaded for free from support.accuratetechnologies.com. Just register, download and use some of the basic functions of VISION including the ability to configure and acquire data from all of ATI's hardware products and use of ATI CAN network interfaces. Purchase only the toolkit functionality you need. Any toolkit addition works seamlessly within one VISION application.
Some popular pre-defined packages of toolkits include levels of data acquisition functions and ECU interface capabilities and calibration.
For a complete list of all the capabilities of VISION, contact your local ATI representative.
Add comprehensive calibration capabilities such as viewing and editing with 2D/3D maps, sliders, dials, and switches. Residency values are calculated indicating the length of time spent in given areas of maps and tables. Use VISION's Calibration Manager to dynamically comparing multiple calibrations side by side in real-time to quickly identify differences between multiple sets of parameters. Create, edit, import and export ATI, ASAM CDF and CDFx files.

Features:
Perform batch processes of calibration changes
Mark calibratable items to track changes

Allows offline calibration without an ECU




Track ECU cell usage of tables and maps




Allows real-time comparison to the Base or a Reference calibration




Provides a wide range of editing methods: formula bars, drag and drop, manual, spinners




Identify calibration status of parameters with a maturity attribute




Provides integrated Calibration Manager
Essential elements of any data analysis tool include the ability to manipulate and view data in a way that highlights results, differences, and specific events. ATI's VISIONview enables comparisons, overlaying, and detection of data or events while easily handling data sets with 1000+ channel counts.
VISIONview's powerful post-data analysis features include the use of XY plots, and file overlays to view data from multiple files on the same graph. Use VISIONview's Calculated Channels to aid in analysis, Layout Templates to instantly reformat new data sets, and the convenient Recorder Catalog for quick access to your data. Import/export in popular file formats (MATLAB, MDF, HDF and ASCII) including the ability to export a reduced data set for focused analysis.
Features:
Support for 'floating' windows
Create multiple views of the same data set
Create calculations based on recorded data
Create Templates for quick formatting of data
Overlay recordings for comparison
Export segments of recorded data
Now Included!

VISION Data Analyzer
VISION Data Analyzer (VDA) 3.0 and up is for viewing and analyzing recorded data using the industry standard ASAM MDF4 file format. As a 64-bit Windows application it supports large file sizes generated by either ATI or 3rd party software.  
Features:
Supports ASAM MDF4 standard file format 

View and overlay multiple recordings 




Create and share layout templates to view multiple files the same way 




Intuitive navigation and extensive pan and zoom functionality 




Spend your time analyzing data rather than configuring software 




Export entire/partial data sets 




Meticulously recrafted as 64-bit for large files 
Collection and analysis are supplemented with a wide range of customizable display objects that enable viewing real time data as it is acquired by ATI's range of data acquisition devices. Select from a collection of customizable display objects such as stripchart recorders, oscilloscopes, LEDs, gauges, and thermometers. Change colors, fonts, sizes and other appearance aspects of each individual object.

Features:
Dials and gauges that provide the ability to customize acquisition screens
Allows the use of multiple recorders each with its own trigger running simultaneously
Stream directly to MDF allowing for larger data sets
Statistical analysis including: means, peaks, medians, standard deviations, etc. for each channel
Display trace data in both graphic and tabular form
Simultaneous view of multiple graphs
Import/Export capability of other file formats
All specifications are subject to change without notice.