February 21, 2017

Health Checking an Electric Bus Fleet with Kvaser CAN Loggers
Kvaser's CAN-based Memorator data-loggers are used to health check Nobina's electric bus fleet.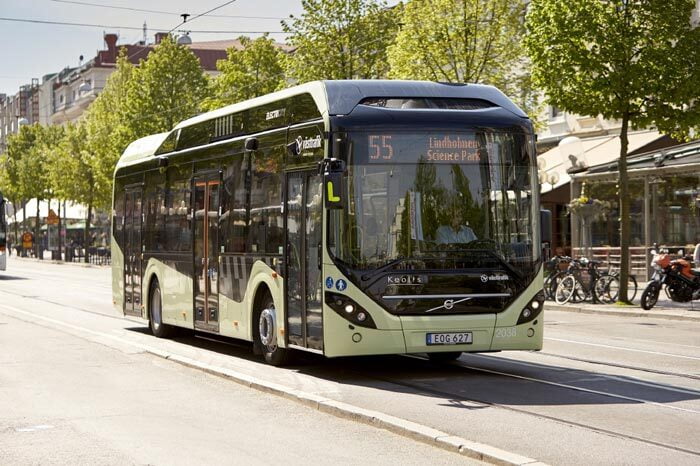 When Scandinavian public transport provider Nobina added hybrid electric buses to its fleet, it became imperative to understand their in-service behavior, especially bearing in mind the sheer volume of passengers that rely on the service and thousands of kilometers traveled per day.
This is why Nobina's Mattias Rosengren contacted Accurate Technologies AB (ATI) looking for a CAN data logging tool, a key component of his test tool chain, to study the performance of Nobina's electric bus. He explains: "We use an open source engineering tool to simulate, analyze, and test data bus systems, as well as Kvaser's free CanKing CAN monitor and general-purpose diagnostic tool to check the CAN connections….For the hardware, we turned to Kvaser, whose CAN interfaces I have used for more than ten years. This time the requirement was for data-loggers, so we have opted for the Memorator Pro and Memorator Light models, which are proving very easy to use."
Kvaser's Memorator Light has a FIFO function, whereby data is held in a circular buffer and the oldest data is overwritten when the buffer becomes full. This means that the device can be left on the vehicle for a prolonged period and if something happens that requires further investigation, the most recent information is available for analysis. Rosengren notes: "We use the Kvaser Memorator Pro to capture a particular behavior when we try to replicate the conditions that bring it about. "
Nobina's hybrid buses use a parallel electric powertrain coupled to a diesel engine. The lithium battery enables the buses to drive in full electric mode from standstill up to 20 km/hr, while electronic features include a stop-start system that cuts off the engine when the bus is stationary, providing fuel consumption efficiencies and lower carbon emissions. By accessing the vehicle's CAN network useful data can be gleaned from numerous connected ECUs (Electronic Control Units) that comprise the bus's engine, transmission, electronic stability, and battery management systems.
Whether it is the analysis of charging cycles, monitoring driver behavior, or examining battery health, there are plenty of ways in which this data can be used to optimize vehicle efficiency, for the benefit of the environment and the company's 'bottom line'.
Another reason for introducing logging capabilities is security. Security-related incidents and driver claims, or intermittent faults caused by individual components, can all be investigated by placing a data-logger on the vehicle's electronic network for an extended period of time and evaluating the results.
The Kvaser data-loggers are attached to the vehicle network using a J1939 connector and are placed in a compartment at the front of the bus. Occasionally, it is necessary to simultaneously gather data from a J1587 network alongside the J1939 one, so a Kvaser Linx J1587 adapter is attached. The data-loggers are 'listen only', meaning that their presence on the vehicle's network has no impact on the messages being sent and received. All Nobina's Kvaser devices has been supplied by Kvaser's principal global technical associate, Accurate Technologies AB, an independent supplier of measurement, calibration and diagnostics tools.
According to Kvaser, with a background in vehicle engineering and his R&D experience, Nobina's Rosengren is well placed to help prepare the firm's buses for the future, whether that fleet is diesel, hybrid,fully-electric, or even autonomous. And he continues to depend upon Kvaser's products – supplied by principal global distributor and technical associate Accurate Technologies (ATI) –as he has throughout his career.
Commenting on the project, Accurate Technologies (ATI) AB CEO Martin Sventén said 'This was an interesting collaboration as it highlighted the relevancy of Kvaser's CAN data logger technology with advanced hybrid powertrain in a heavy-duty scenario. It is encouraging that Nobina is using ATI supplied Kvaser products on its hybrid bus fleet and that it also plans to expand the program to the associated charging infrastructure in the near future."
For more information about Kvaser products, contact your local ATI representative.