Novi, Michigan, USA - 29th October, 2019
EMX 2.0 Data Acquisition Redefined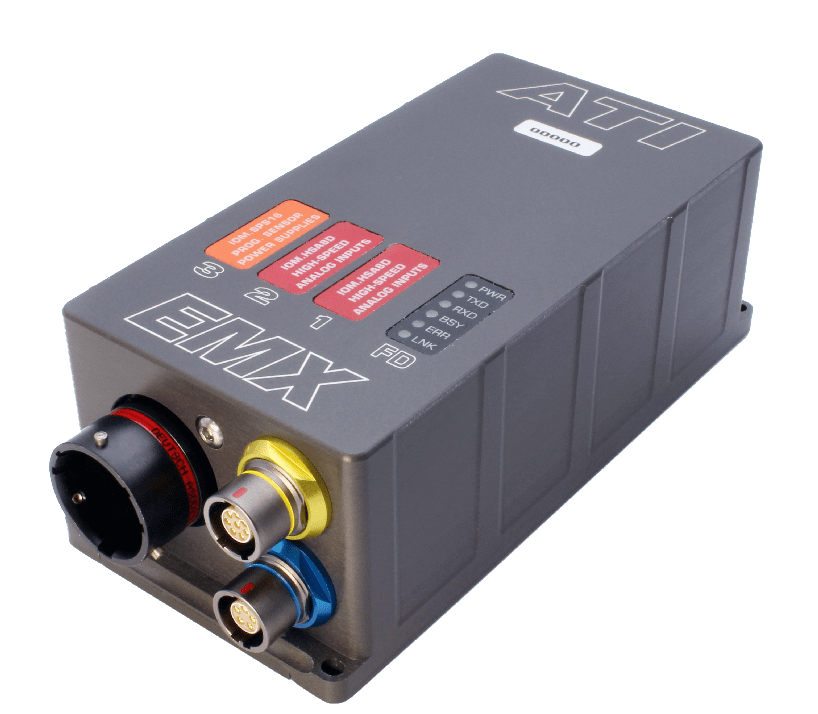 Accurate Technologies Inc. (ATI) is proud to announce that a new, improved EMX 2.0 is now available and has received significant updates. EMX 2.0 boasts an IP67 rating and has a redesigned enclosure for improved survival in harsh environmental conditions. Sealing of the EMX was achieved by eliminating the oleophobic membrane and the addition of using sealed screws along the sides of the enclosure.
These new features provide users with the high reliability they're accustom to in a compact and rugged enclosure.In addition to the durability, the EMX 2.0 also receives notable improvements in performance. The new internal CPU module offers a wealth of advantages such as an improved dual-core processor and support for both CAN-FD (up to 8Mbps) and Ethernet pushing the EMX to new speeds. Revisions have been made to the internal HSA8D high speed analog measurement module and LSA8D low speed analog measurement module as well resulting in improved analog measurement performance with new high-accuracy 16-bit A/D converters.

The EMX 2.0 ensures that users requiring new units will be able to integrate them seamlessly and take advantage of the outstanding high-end DAQ measurement and performance provided by the new features.
EMX offers outstanding high-end DAQ measurement performance in a compact, rugged package

Competitive cost-per channel especially for high channel count applications
Analog, thermocouple, and cost-effective mixed I/O types available
Variety of I/O breakout cable and breakout box options available, or make your own
Fully sealed IP67 rated enclosure can be located near the signal sources on vehicles
Aerospace grade connectors and hard anodized billet aluminum enclosure design
Wide operating temperature range for extreme use on test vehicles and in environmental chambers
Analog measurement accuracy and precision typical of larger, more costly laboratory style equipment
Multiple thermocouple types: B, E, J, K, N, R, S, T, selectable per channel
Advanced thermocouple cold junction compensation integrated in the custom I/O connector for excellent measurement stability during rapid temperature swings
Advanced anti-aliasing and configurable DSP low-pass filters with selectable filter characteristic and cutoff for outstanding signal integrity and ultra-flat passband frequency response
Flexible communication interface options
CAN and CAN-FD for easy daisy-chaining
Ethernet for high-speed and/or long-distance connections (such as test cells)
Ethernet interface includes hardware IEEE-1588 PTP support for precision time sync across multiple EMX units and other ATI devices such as Ethernet based ECU Interfaces
New CAN-FD support at up to 8Mbps allows higher data throughput than CAN 2.0B using the same daisy-chained CAN network topology
Wake-on-CAN and wake-on-Ethernet features conserve power by putting the EMX into standby mode when there is no communication activity and automatically wake it up when it starts
CAN-FD interface supports both ISO and Non-ISO modes (software configurable)
Simple 'Plug and Play' connectivity with ATI VISION Calibration and DAQ Software
Generic Message Based Protocol (MBP) on CAN/CAN-FD allows user-configurable flexible format free running CAN messages for use with third party applications
3-year warranty period on all EMX devices