CANLab Network Analysis Software
CANLab is a network analysis tool that provides a complete solution for CAN and LIN bus networks. Support for a variety of hardware interfaces and industry standard databases that support them is provided. It can be used to view network activity, send and receive signals/messages, record and replay data, manipulate and analyze data, and check statistics, all in real-time.
Supports many CAN hardware interfaces

Supports both CAN and CAN FD

Import/export to multiple log file formats

Offers analysis and scripting at no extra cost

Provides a sophisticated strip chart recorder and replay

CCP/XCP/KWP Protocol Decoders

Support for J1939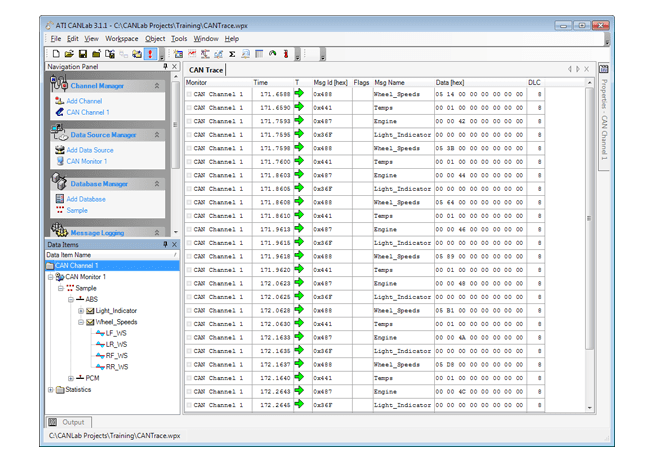 Trace
Effectively monitor bus traffic at message or signal levels in fixed or scrolling modes with CANLab's Trace window screen. When in fixed mode, decoded signal values can be expanded for ease of visibility. A variety of message filtering and highlighting capabilities allow further refining of the message display to aid in analysis.

Send
Select from pre-defined messages or custom defined messages to send on the bus. These may be sent individually or through grouped messages to define a sequence of messages. Customizable trigger events can be used to initiate transmitting the messages. This enables unlocking gateways, simulating controllers or debugging protocols for troubleshooting and validation using CANLab.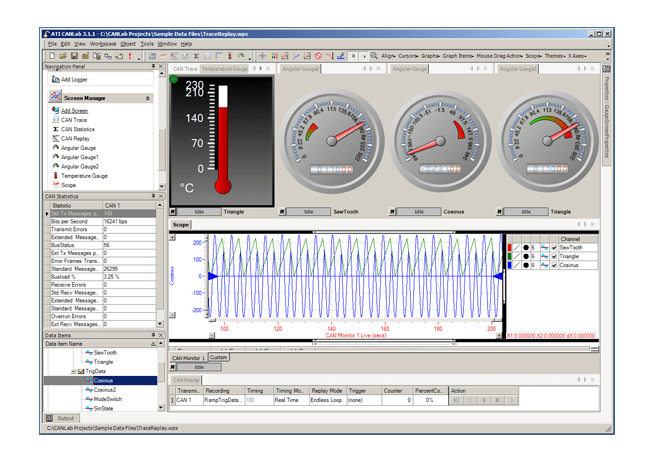 Graphic Displays
CANLab features dials and gauges for viewing and analyzing signals to significantly improve the data analysis process. A strip chart recorder provides recorded or 'live' graphical viewing of signals and statistics simultaneously. Signal values can be time aligned to existing recorded data for quick real-time data analysis all on the same screen (window).

Fully customize the view of the data in CANLab. Display data items using selectable columns that can include raw and converted values, absolute or relative message timestamps, comprehensive highlighting and trend arrows. For example, highlight messages or message groups by changing the color, font type or font size of a message in the trace window. Select highlighting features based on message IDs or conditions, such as value ranges or message properties like transmitted messages or extended identifiers.

CANLab's powerful Calculated Channel feature allows creation of additional signals without writing a script. For example, take the vehicle speed signal off the bus and calculate Acceleration and Distance. While CANLab provides a vast array of built-in math functions, the functionality can be extend by referencing a DLL that contains the user's functions. All of these tools are available to all CANLab users, making analyzing data as simple and powerful as possible.

CANLab's scripting language, included for all CANLab users, is full-featured with syntax based on the C# language. With a user configurable editor and syntax highlighting, it is easy to learn and delivers reliable, robust solutions.
In addition, CANLab scripts can run native within the CANLab application ensuring faster, real-time functionality. Compose complex functions to respond to different types of events such as 'On Message Received', 'On Signal Received', 'On KeyPress', and 'On Timer'. Extend CANLab's functionality to not only work with messages but also analyze data. Save scripts for distribution and use by other groups who can focus on performing the test rather than test setup.
ATI Software License Models:
STD - Single node (PC) locked license (one serial number on one device), 1st 12 months Dynamic Maintenance, updates and 24/7 technical support included. (Subsequent Dynamic Maintenance every 12 months).

MUL - Multiple node (PC) locked license (one serial number on a specified number of devices). Same billing model as

STD

license's

- Floating license tied to a physical USB key enabling multiple user access (not simultaneously). Same billing model as STD license.
SUB - Optional Monthly subscription license – pay as you go per month – inclusive of dynamic maintenance and 24/7 technical support. Available for all the above license types.

All specifications are subject to change without notice.